Your HubSpot Advantage
Master HubSpot
Maximize the value of HubSpot with AvantaHub's wide array of services supporting your web development, marketing, and business goals. Align your business needs with HubSpot's solutions.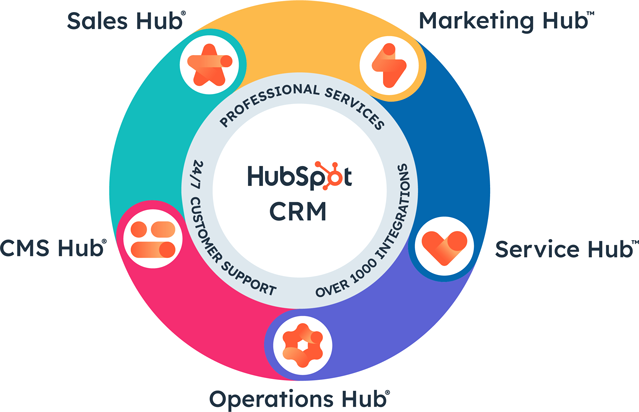 HubSpot Onboarding

HubSpot Integrations

HubSpot Consulting & Support

Sales & Marketing Alignment & Automation

Growth Marketing Services

HubSpot Audit

HubSpot Training

HubSpot CMS Services

HubSpot Templates

HubSpot CRM Integration

HubSpot Website Optimization

Dynamic Content with HubDB
HubSpot Onboarding
Companies using HubSpot CRM/CMS need to take the assistance of HubSpot experts who know the ins and outs of the platform. With the right help, companies can use HubSpot to its full potential.

Being a HubSpot Solutions Partner agency, AvantaHub has certified HubSpot specialists in its team that are technically sound to fully manage your HubSpot onboarding and implementation process so you can leverage the platform to the fullest.
HubSpot Integrations
Integrate your favorite tools and apps with HubSpot for a holistic view of your data, contacts, sales pipelines, and activity tracking.

Discuss with our HubSpot integration specialists to check the alignment of your data flow requirements with the available integration options.
HubSpot Consulting & Support
You can have a HubSpot expert guide you through setting up the account and managing marketing campaigns, workflows, reports, and analytics.

Streamline your in-house business processes and sales and marketing workflows with AvantaHub.
Sales & Marketing Alignment & Automation
AvantaHub's HubSpot certified professionals look for automation and alignment opportunities in your sales and marketing departments, respectively.

We also suggest and implement the tools that help in syncing sales and marketing perfectly.
Growth Marketing Services
We optimize your existing campaigns, data sets, HubSpot solutions you use, and marketing assets to bring out the best results from them.

You see improved campaign results, appropriately utilized marketing assets, and the best use of HubSpot tools and solutions per your business goals.
HubSpot Audit
Auditing your HubSpot platform and fixing the gaps ultimately results in positive sales. Experience the change with AvantaHub HubSpot auditing services.

AvantaHub's HubSpot certified experts are well versed with the sales and marketing and HubSpot's tools needed to work those in your favor. We're here to resolve any problem you are facing with HubSpot.
HubSpot Training
Uninitiated team members use HubSpot in a very controlled manner without utilizing what it can do for the business. One can only add the actual value of HubSpot to their business when one learns to use it properly.

We will teach and train your team to manage your contacts and pipeline, nurture your leads, create successful campaigns, and lock in more deals.
HubSpot CMS Services
AvantaHub helps you move your complete website from the old CMS to the new HubSpot CMS.

The proper shift with a complete database and files is important if you do not want to build it from scratch. We have done the same for many clients and can do it for you.
HubSpot Templates
AvantaHub templates are your one-time investment that goes a long way in building and supporting multiple website pages, landing pages, emails, forms, and more. This saves you time and money.

We can build any page, email, or form to give any business the success they want on HubSpot.
HubSpot CRM Integration
A connected business is a smart business. We help you connect your HubSpot with other equally good tools that you love to use or have been using for years.

Simplify your company's data and customer data the way you want. Make the tools work for you and not the other way around.
HubSpot Website Optimization
Website optimization is one of the major reasons your competitors have more business and rank above you in search engines.

Let the experts optimize your website to make it search engine-friendly and user-friendly for all prospects.
Dynamic Content with HubDB
We help you easily manage the dynamic content that helps you easily scale up your website. Even non-developers can update information and publish the updates.

Being a CMS+CRM, HubSpot has ample data on your clients, your teams, your assets, and your processes to which you need easy access. Have it your way using HubDB.