We're a World-Class CMS team of HubSpot-Certified and Full-Stack Developers.
Zafar Ahmed
Founder & Chief Marketing Officer
Zafar brings more than 12 years of digital strategy, account based marketing, marketing automation, growth marketing, production and sales experience.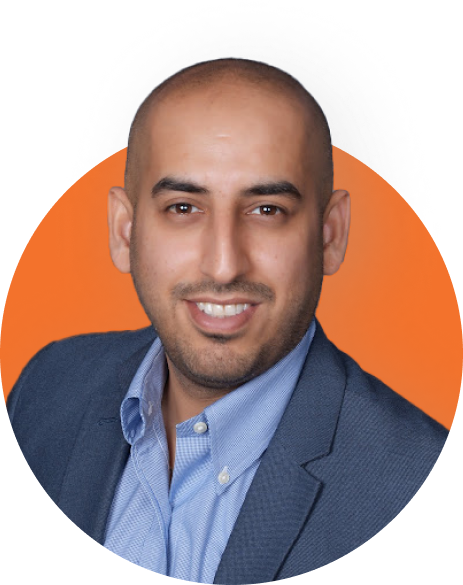 Fully Integrated CRM
Track every visitor to your site in one place and create personalized digital experiences leveraging CRM data. With the HubSpot CRM platform, your website becomes a growth engine for your business.
SEO Recommendations
Easily see how you can improve your site and take action, all in one place with the SEO recommendations home screen.
Contact Attribution Reporting
Analyze the impact of your website and optimize your strategy by digging into which content types, sources, and campaigns are driving the most leads.
Responsive Drag-and-Drop Editor
Update and create pages with out-of-the-box Responsive Drag-and-Drop Editor without a developer's help or custom code. Publishing changes on the fly has never been easier.
Engage visitors with Personalization
Integrated with HubSpot live chat and bots, smart content, forms & CTAs, email marketing, and the CRM.
HubSpot APIs
The HubSpot APIs provides authenticated, secure access to your CMS and CRM data. The APIs is built to allow you to create a functional application or integration quickly and easily.
Website Themes
Pick a theme to easily change the look and feel of your entire site globally, out-of-the-box. Developers can design a theme folder of pre-built modules, styles, and layouts to keep your website consistent at all times.
Adaptive Testing
Continuously optimize your website with ease. Choose up to five variations of a page, and HubSpot will monitor and serve up the best performing option.
Multi-language Content Creation
Easily manage multiple language domains and optimize each one for SEO. Allow users to toggle between languages.
Video
Host, manage, and embed videos with just one click. Update the metadata for each video so search engines can easily find your content. Insert CTAs and forms into videos to capture more leads.
Users & Teams Permissions
Keep your team organized as you scale. Grant access to areas of your website that only select team members can edit, publish, or configure.
Conversations Platform
With live chat, team email, a Facebook Messenger integration, and an easy-to-use chatbot builder, HubSpot gives you the messaging tools and context to have unlimited, personalized conversations with prospects and customers at scale.
Custom Report Builder
Break down data silos and see how your website is working alongside your marketing, sales, and service teams to drive results for your business.
Payments
Add payment links across your website to modernize your customers' buying experience and track touchless purchases directly within the CRM.
Mobile Optimization
Create content that looks good on multiple device types, and see it before it goes out. This is a CMS Hub Professional and Enterprise feature.
Convert Calculator Integration
Create your custom calculator form for Lead Generation, Product Configuration or Price Quoting. With ConvertCalculator you will grow your business, save time and make things simple.
Multi-Step Forms
increase your number of conversions, create a better user experience, and ensure a smooth registration or checkout process for your leads and customers.
Third-Party Platforms Integrations
HubSpot integrates with Salesforce, Drift, Slack, Zoom and hundreds of third-party platforms.
5-in-one Growth Platform
A sophisticated platform designed to be the backbone of your business from contact management, marketing initiatives, service support, and even CMS development.
Libraries of content
Using HubDB, you can get data-driven custom modules to fit your unique needs.
Membership Functionality
Using the Membership feature of CMS Hub Enterprise, you can require your CRM contacts to be logged in to view specific content of your site.
Built-in AMP Support for Blogs
Get built-in Google AMP support for all blog content to help ensure a good mobile experience and SEO.
Email Templates Builder
Turn your best and most repetitive sales and marketing emails into templates you can personalize, optimize, and share with your team.
Content Search
No need for a third-party search tool. Using HubSpot's native search engine, the HubSpot CMS's built-in site search functionality will let your visitors find the content they're looking for.
Invoice Template Generator
Use the feature of Invoice Template Generator to create and download professional invoices to send to your customers.
Create and Use Custom Quote Templates
With editable modules, you can customize the template's design and content to match your business's needs.
HubDB
HubDB is a relational data store, much like a spreadsheet. You can create tables and manipulate data in HubDB through a user interface, or you can use the HubDB API.
File Manager
The HubSpot File Manager can be used to store and serve files for your web site. Files can be stored on the File Manager via the in-app UI, or via the CMS CLI.
Content Staging
Content Staging allows web site creators to update the design and content of pages by staging the changes. These staged changes can then be published to your production site. Content staging is a CMS Hub Professional feature.
Blog Import
Quickly bring over blog content from a different platform into HubSpot.
Serverless Functions
Serverless functions provide a way to write server-side code that interacts with HubSpot and third-party services through APIs. Use serverless functions to add advanced capabilities to your CMS Hub website. Serverless Functions are a CMS Hub Enterprise feature.
App and Asset Marketplace
Extend the look and functionality of your website by installing any of the thousands of themes, templates, modules, and apps in our marketplace.
Email Marketing
Send bulk emails that are tested and optimized for different devices and inboxes. Create better emails with a drag-and-drop editor and personalization tokens.
24/7 Security Monitoring & Threat Detection
Defend against attacks and keep your CMS-hosted website, blogs, and landing pages safe with the built-in CDN and HubSpot's security team.
HubSpot Mobile App
Work from anywhere with the HubSpot mobile app. Highlights include business card scanning, caller ID, and more. Available for iOS and Android.
Subdomain and country-code top level domain availability
Connect your HubSpot account to a subdomain or country-code top-level domain of a single brand's URL to host landing pages, blog posts, and other content you create inside your account.
Ad Management
Includes all available ad types. Advanced website audiences, Facebook Lookalike Audiences, and up to 15 contact and company list audiences and 15 ad optimization events, synced hourly.
Forms
Create standalone, pop-up, embedded, and collected forms to gather the contact details that your business needs.
A/B Testing
Run A/B tests on landing pages and website pages to hone in on the best performing variations in copy and design.
Content Partitioning
Give teams different permissions for your blog posts, site pages, emails, forms, CTAs, lists, or workflows based on role, region, and more, so they can only see and edit content relevant to them.